The Plaza Theatre Information
The Plaza Theatre Performing Arts Center, an important cultural landmark of El Paso, was originally built in 1930. By the 1950s, the theatre had fallen into disrepair, due to the increasing popularity of television and the rise of suburban neighborhoods located further away from the venue – the rise of drive-in theaters added to the competition. However, in 1989, the El Paso Community Foundation began preparations to raise the $9 million required to restore the venue, one of the few still existing of its kind. It was a huge job, involving the replacement of furnishings and artwork, altering the facade, and fixing many broken electrical features, but the interior structure was relatively intact all these years on. Thos. S. Byrne, Ltd. and Arrow Builders were involved in the restoration, particularly interested as "With over 2,000 seats at the commencement of restoration, the Plaza is currently one of the nation's largest non-functioning theaters in the United States."  By 2006, the venue was restored to its original beauty.
The Plaza Theatre Performing Arts Center is located in central El Paso, a few minutes away from the Judson F. Williams Convention Center and the Abraham Chavez Theatre. Today, the venue is listed and protected as a National Historic Building of Significance.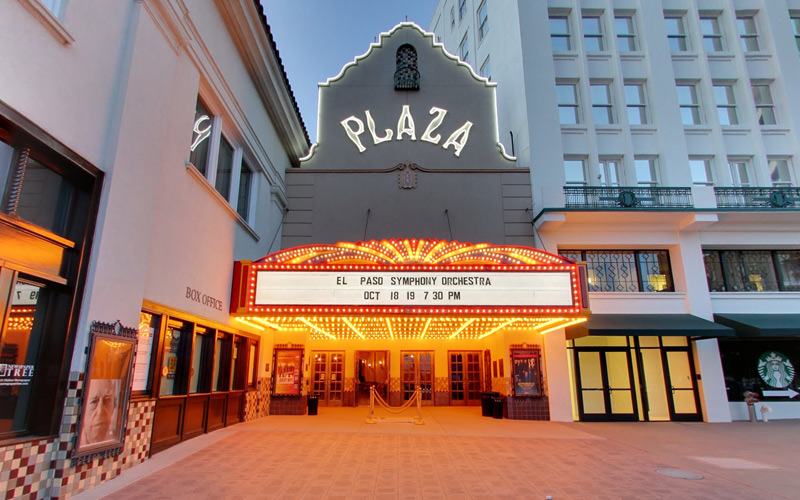 For parking information please see the The Plaza Theatre parking page.
For ticket information and information on our recommended ticket provider please see the The Plaza Theatre tickets page.
To view the seating configuration and find out about accessible seating, please see the The Plaza Theatre seating chart.